You know what I sometimes find a little difficult? When I read about ways to save money that require a lot of effort. Like, yes, I can theoretically build my own furniture, but it will take me countless hours to learn how, and then even more time to actually source all the materials and put something decent together.
Great if you have the spare time and energy, not so much if you don't.
So I decided to type up this article, which takes a different tack – ways to save money that are mega-easy and take very little effort. Most can be accomplished in far less than an hour.
And since I even want to save you effort in reading this post, I'll get right to it!
Note: This post contains referral links*.
Low- Effort Ways To Save Money Today

Switch Your Household Essentials Shopping to Sam's, Walmart, Amazon, Target, Etc.
Simple – don't shop at expensive stores when you can get stuff that's the same or similar quality at cheaper ones. Even better, pretty much every store allows online shopping, so you don't even have to leave the house.
Here are some great places to shop for cheap:
Sam's Club (in my experience, incredibly cheap – usually cheaper than Costco).
Walmart
Marshalls
Ross (Dress for Less)
Amazon
Target
Consolidate Your Music Streaming Subscriptions into a Family Plan
One of the easiest ways to save money is to simply consolidate all your household music streaming accounts into one family plan. For example, Spotify will let you put up to six people that live under the same roof on a single plan for $14.99 per month (and everyone keeps their separate accounts).
Amazon Music is similar, though its deal is slightly better in that you can pay for a full year at a time and save two months (one year for $149).
Switch to an Online Bank with High Interest and No Fees – One of My Favorite Ways to Save Money!
Nowadays, there is simply no reason to pay for bank accounts. I'm talking about online banks such as Discover and Ally, which won't charge you for your accounts (even checking), and may reimburse some or all of your ATM fees. Plus, Discovery and Ally are currently paying over 2% interest on savings accounts.
And don't worry! Any legitimate online bank will be insured by the Federal Deposit Insurance Corporation (FDIC), which means your money is insured up to $250,000.
What If You Need A Brick-And-Mortar Bank?
The only big issue with online banks that I can think of is if you need to make transactions in person, such as depositing cash. In that case, I'd suggest you use a credit union, which may also have no fees and very favorable terms for customers. For instance, here in Florida, JetStream Federal Credit Union offers a checking account with no monthly service fees.
Your credit union deposits are not insured by the FDIC, but rather mainly by the National Credit Union Administration. So, do a quick check for NCUA insurance before opening an account.
Drink Cheap But Delicious Wine
My friends, not even the experts can tell the difference between cheap and expensive wine. I certainly can't (though I'm no expert); my current favorite is a Moscato I got at Target for less than $5.
So unless you're a proud wine snob, drink the cheapest wine that tastes good to you. Forget about what the so-called "experts" say, and save yourself some sweet money!

Get Bumped and Buy All Your Gas from One Place
Bumped is my new favorite app. How it works is that you link it with your credit card accounts and it gives you stock back when you shop at some participating merchants. (You do have to choose one merchant within a category, though).
For example, you can pick Starbucks or Dunkin' for coffee. If you choose Starbucks, it'll give you 2% of each Starbucks purchase back as fractional shares of Starbucks stock, on top of any other rewards you can get (and with no fees). So, if you spend $10, you'll get 20 cents back of Starbucks company stock. Awesome, right?
Bumped partners up with two gas brands at the moment (ExxonMobil and Chevron). So choose one of these two brands (unless you can get your gas significantly cheaper elsewhere), and join any available loyalty program for extra savings (I use ExxonMobil Speedpass). Then, use Google Maps or another website or app to find a cheap gas station that's convenient for you.
Here's how it looks on Google Maps for an area here in Miami (notice that there are three Mobil stations close to each other, but they don't have the same prices):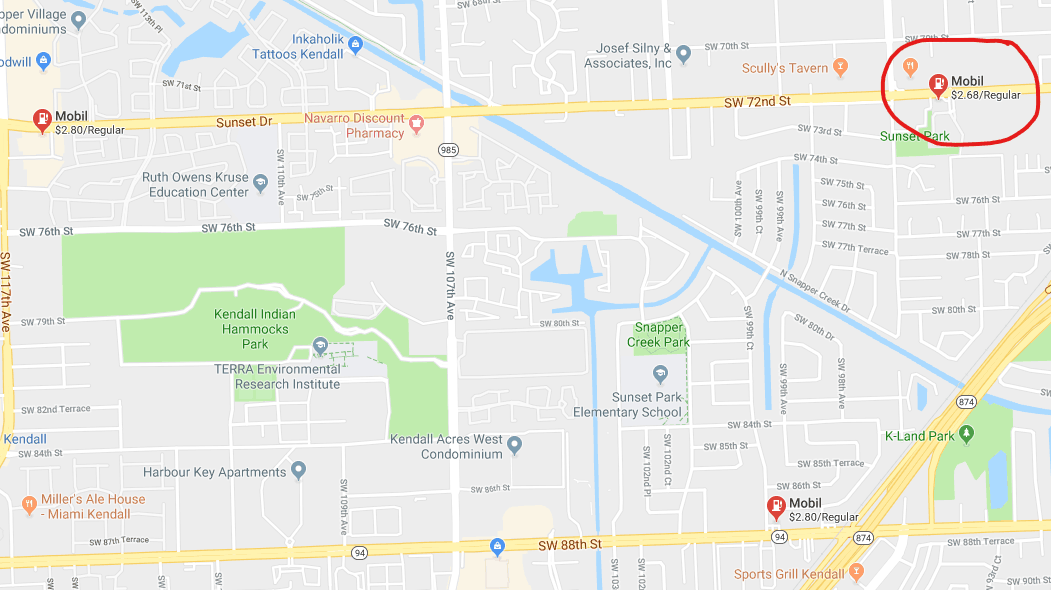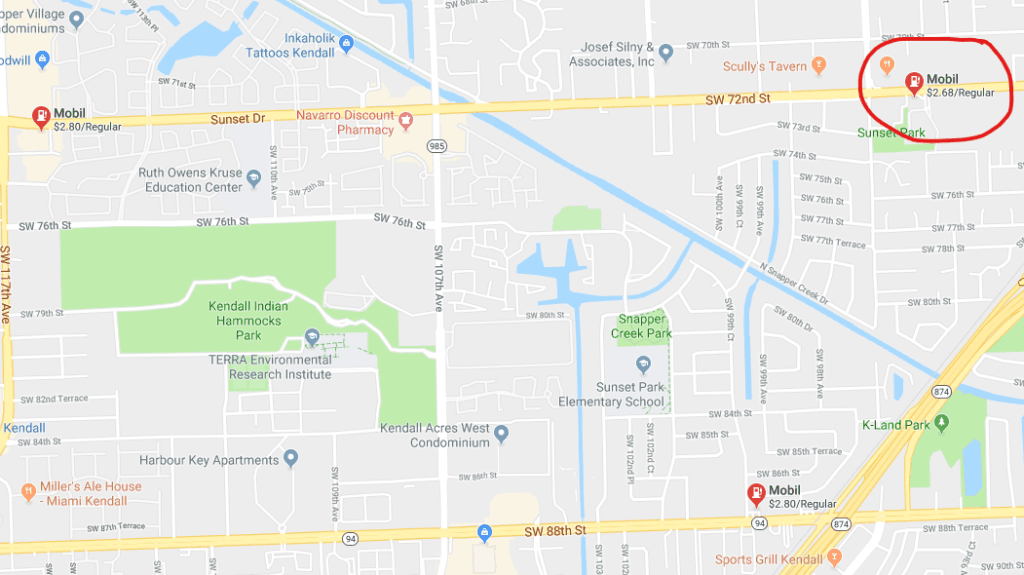 Then, make the cheapest convenient station your "default", go-to station, and make sure to triple-dip on rewards by using Bumped, the gas brand's loyalty program, and your credit card rewards. In fact, if you can get a fourth dip with a program like Dosh, then all the better!
Optimize Your Credit Card Rewards
Speaking of credit card rewards, if you're not getting at least 2% back from your credit card, you're leaving money on the table. So take that money back and develop a credit card rewards strategy (while always paying off the full balance each month to avoid interest).
Here's a simple one:
For general purchases: Citi Double Cash (2% cash back).
Dining: the Uber Visa Card (4% back).
For Amazon.com: Amazon Prime Rewards Visa Signature Card (5% back if you are an Amazon Prime member, or 3% back if you aren't).
Supermarkets: Amex EveryDay (2x points) (it's the same as the Citi Double Cash, but you'll need at least one Amex card to have access to Amex Offers, which I'll explain below).
Here's to easy money!

Use Swagbucks, Ebates, and other Browser Extensions When Shopping Online – One of the Easiest Ways to Save Money
These browser extensions are an amazing way to save money, just because they're so easy to use. You sign up for a program like Swagbucks or Ebates, install the extension, and that's it! When you go to a supported online store, they'll start flashing and show a pop-up reminding you to activate them.
Usually, the cash back amount is somewhere around 1-3%. If you always want to maximize your earnings, you can go to CashbackHolic before shopping to see what each program is offering.
Carry Around One Big, Refillable Water Bottle
Save yourself the cost and hassle of buying plastic water bottles while outside your home. Rather, just carry around one big, refillable bottle that you fill up in the morning at home and at water fountains throughout the day.
At most, buy water bottles in bulk and take some when you leave the house. Just never buy them outside, since you'll pay far more.
Sign Up For A Card-Linked Rewards Program Like Swagbucks Local or Dosh
So these are mainly for local shopping. How they work is that you link your credit card (with your credit card information; you don't have to give them access to your bank account) and, if you use that card at a participating merchant, you get a reward.
It's one of the most painless ways to save money. All you have to do is sign up, link a card, and collect your goodies! Get Swagbucks here and Dosh here.
Buy Luxury Stuff Used or on Farfetch, or at Least On Sale
I like the occasional Swiss watch or premium shoes – but I strive to never pay retail. As hard experience and wasted money have taught me, most luxury goods are best bought lightly used on sites like TheRealReal.
In fact, let's do a fun little test: here's a picture of two watches I own. Guess which one I bought new, and which one I bought used: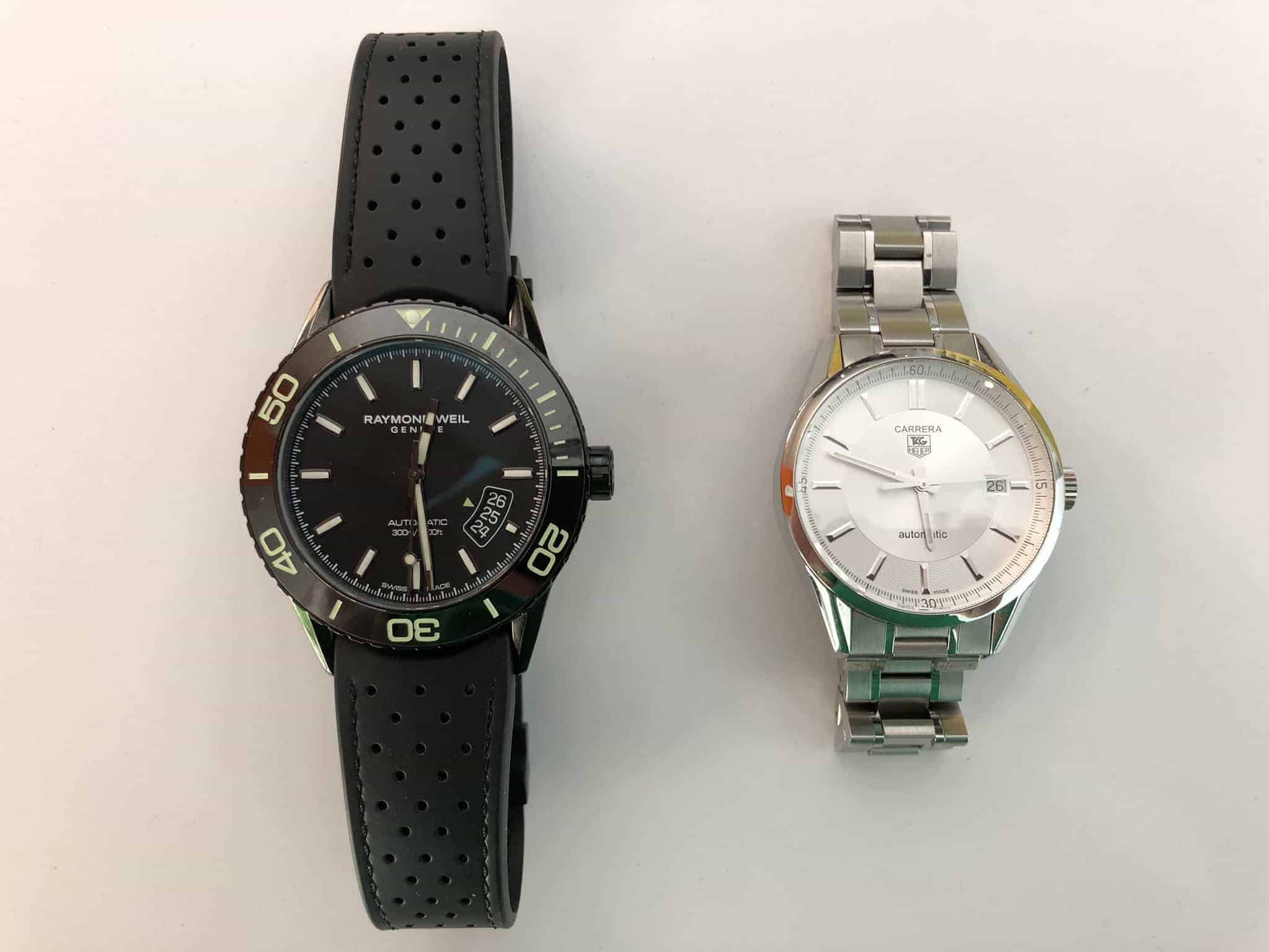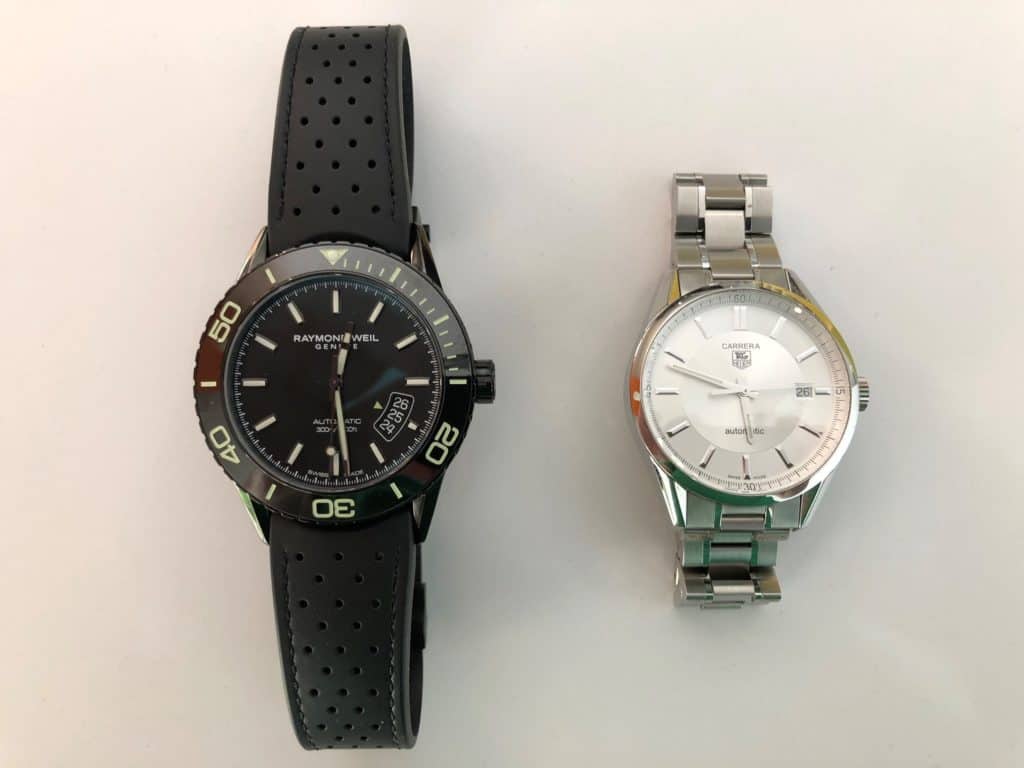 The answer is that the one on the left (the Raymond Weil) I bought used, while the Tag I bought new. But can you really tell? Remember, something new becomes used the first time you wear it. Is it really worth paying a big premium?
If you must buy new, though, check out FarFetch. They'll ship you luxury goods from boutiques worldwide, often at a ~33% discount from their US retail price.
Always Buy Store Brand – Another of the Easiest Ways to Save Money
But for a few exceptions, there is generally zero reason to buy name-brand instead of a store brand. For example, you can buy store-brand ibuprofen pills from CVS for $15.99 (160 pills of 200 milligrams):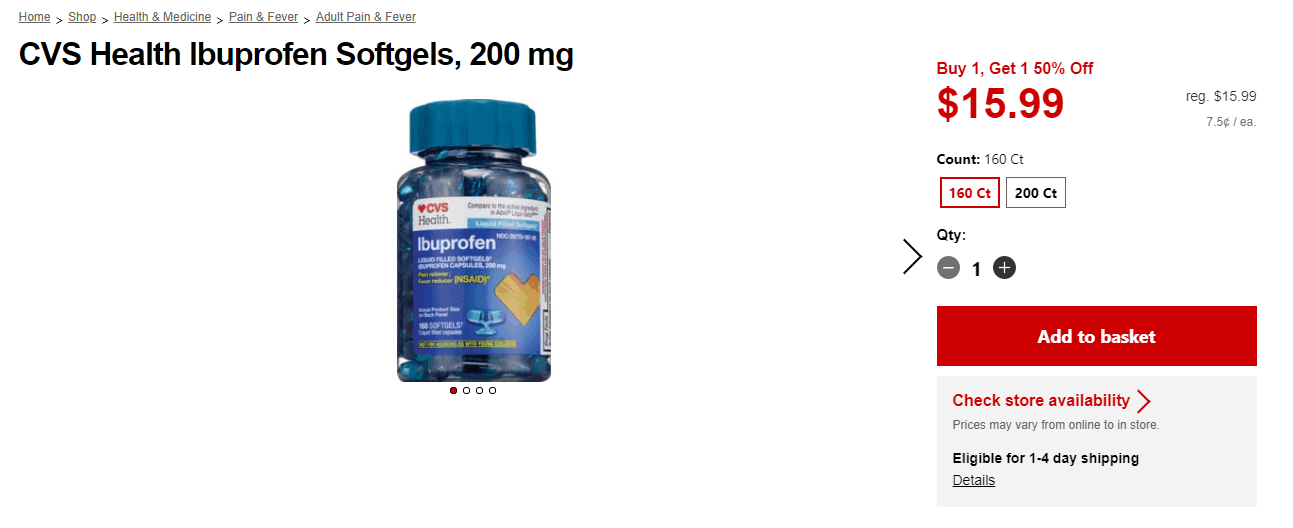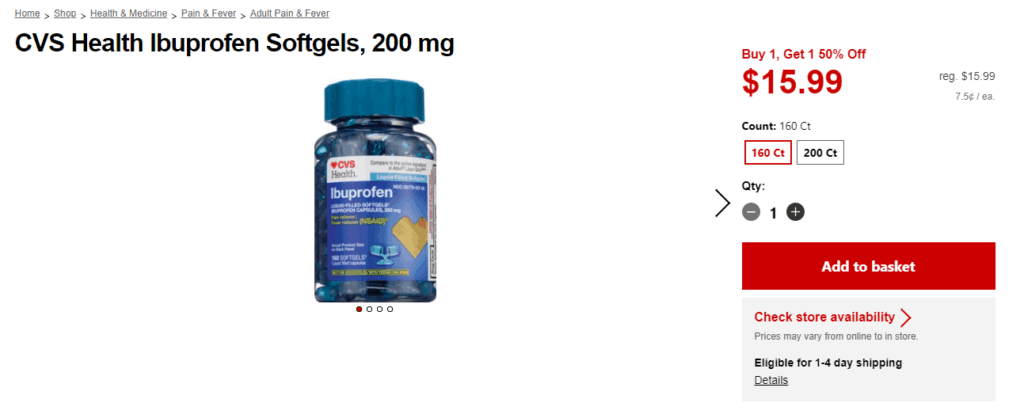 Or, you can buy 160 pills of 200 milligrams from the Advil brand for $18.99:


How low can you go? Sam's Club will sell you the same 200-milligram "softgel" pills for $13.38 for 400 pills. And if you go with regular, non-softgel pills, you can get 1,200 for $10.88: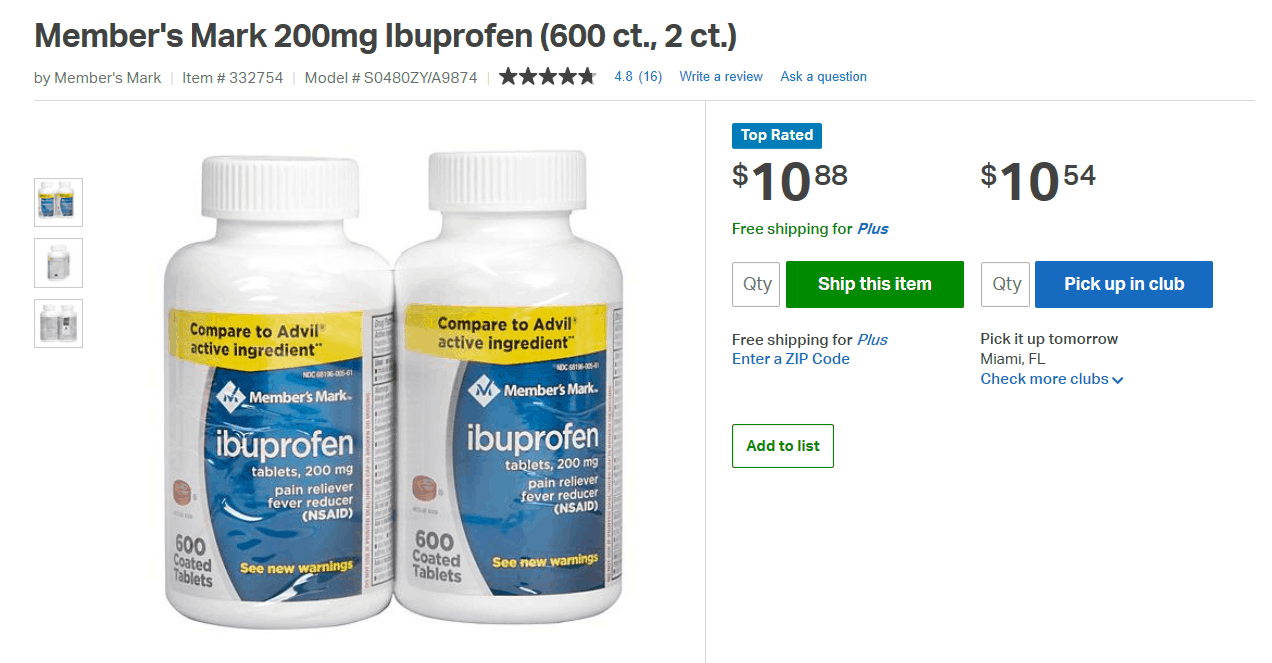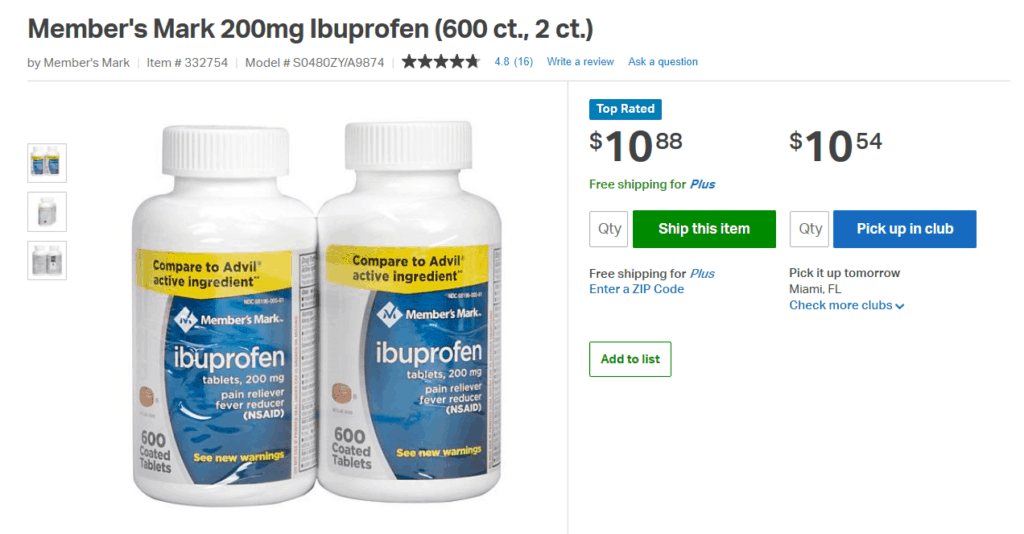 Same ibuprofen, vastly different prices.
Of course, there are some exceptions. My wife and I have not found store-brand diapers that work very well for our baby. Still, for the vast majority of products, the store brands are just as good as the name brands, but much cheaper.
These are some of my favorite store brands:
Member's Mark (Sam's Club)
Up & Up (Target)
Solimo and AmazonBasics (and others) (Amazon)
Kirkland Signature (Costco) (though I prefer Member's Mark)
When Looking for a Doctor or Medical Facility, Make Sure They're In-Network and "Preferred"
It's easy to get tangled up by this, at great cost to you. When you're going to visit a doctor and it's not an emergency, make sure they're in your health insurer's preferred-provider network. Failing to do so can cost you a lot of money!
For example, under my insurance plan, a $5,000 ambulatory surgery would cost me $435 at a preferred facility, $1,015 at a "Member" (but not preferred) facility, and a whopping $3,375 (or more) at a non-member facility.
So if it's not an emergency where you need immediate care, check with your insurer first!
Pro Tip: Find a doctor easily with Zocdoc.
Buy Cheap Microwave Meals for a Quick Lunch
I find that microwave meals have gotten much yummier over the years. They're actually pretty good nowadays!
Just as great, you can often find them on sale for less than $3 each at places like Target. So, have yourself a cheap and easy lunch rather than paying three times as much at a restaurant. (Of course, you can also have them for dinner).
Use Autoslash for Car Rentals – One of the Best Ways to Save Money on Travel
Autoslash is one of the best ways to save money on car rentals. How it works is that you input some information (location, dates and times, name and e-mail address, etc.), and it sends you a quote from different companies by e-mail in about 5-30 minutes, applying any coupons and discounts you might be eligible for. It also keeps tracking the price after you book your car, so that you can cancel and re-book if a cheaper rate comes up.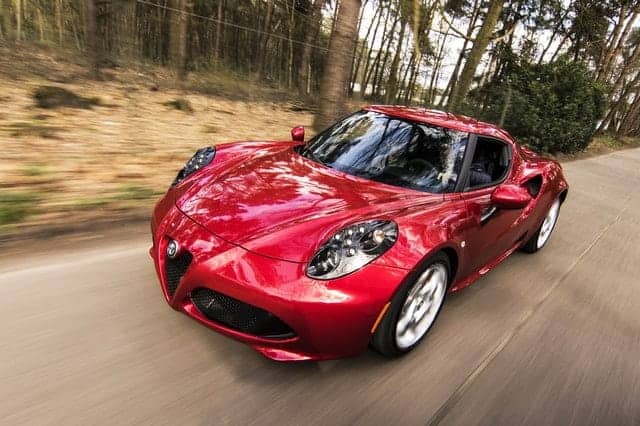 For more on renting a car, check out my comprehensive guide here.
Sign Up for American Airlines Business Extra and Similar Programs
If you've got even a semblance of a business, you can probably sign up for airline business programs like American's Business Extra. The cool thing about Business Extra is that it works on top of (and in addition to) your frequent-flyer membership, allowing you to effectively double-dip when you fly.
With Business Extra, you get additional points that you can redeem for free flights, upgrades, and other goodies. It's free and there's essentially no downside.
Buy Inexpensive Domestic Vodka, Whiskey, and Rum Rather Than Imports
For us (responsible!) drinkers, this is a great way to save money. Don't buy hyper-expensive, imported vodka, whiskey, and rum, unless it's one of your life pleasures. Rather, buy excellent domestic vodka (like Tito's or even cheaper brands such as The American Plains), whiskey (like Jim Beam), and rum (DonQ or, if not available, Bacardi).

Use Ibotta When Shopping
I find Ibotta a little annoying, but generally worth it. What you do is sign up for it, and then look for a store where you're going to shop (it's great for supermarkets). You'll see a list of items and cashback offers for each item. For example, there might be an offer for $1.00 back on a pack of pasta.
Next, you tap on each offer to add it, and go shopping. Once you're done, you scan the receipt and get the cash back (though Ibotta connects directly with some stores such that you don't have to scan the receipt).
A small hassle, but it can save you some good money.
Check Sites Like Groupon and Goldstar for Local Offers – One of the Most Overlooked Ways to Save Money
Sites like Groupon and Goldstar make it easy to find highly discounted local offers. For example, here's an offer for 43% off on a short cruise:
There's really no downside to using these sites!
Subscribe and Save on Amazon
With many products, Amazon will let you "subscribe and save" for a discount of around 5-15%. When you choose this option, it will periodically and automatically repurchase and resend you the product, without you having to do anything.
If you regularly buy something from Amazon, consider subscribe and save. Just be sure to remember to cancel it if you no longer need the product.
Choose No-Rush Shipping on Amazon
Amazon will often let you choose "no-rush" shipping in exchange for credits on services like Prime Now (same-day delivery). If you don't need something right away, take advantage of it, and get those credits (usually, they're $1 or $5).
Often, I find that stuff I order "no-rush" arrives well before the estimated delivery date anyways.
Find Free Reviews on Wirecutter to Avoid Buying Junk (And/Or Use Fakespot)
Buying low-quality junk that you have to quickly replace is one of the best ways to lose money. That's why buying good-quality stuff at great prices is one of the best ways to save money.
But how do you know something is good? Why reviews, of course!
The problem is that reviews themselves can suck or be fake or biased, and lead you down the wrong path. So here are two awesome and free sources of reviews:
Wirecutter, a reputable review site that is a New York Times Company.
Amazon reviews, filtered through Fakespot, which weeds out fake reviews.
Buy Snacks in Bulk and Avoid the Vending Machines at Work
Snacks bought in bulk at Sam's or Costco will nearly always be cheaper than buying them individually at a vending machine at work. So, do a little advanced planning and buy those big boxes. Plus, you'll eat exactly what you want, rather than relying on whatever's available at the vending machine.
Take Advantage of Amex and Chase Offers – Often Unexpected Ways to Save Money
Amex Offers
If you have an American Express card (even if it's no-annual-fee), you probably have access to Amex Offers. These are limited-time offers that you can sign up for via the Amex website or mobile app, and that give you some sort of reward when you use the card at a participating merchant. For example, here are some that I'm seeing on my account right now:
1-800-PetMeds: Spend $100 or more, get $15 back.
SimpliSafe Home Security: Spend $450 or more, get $100 back.
Advance Auto Parts: Spend $50 or more, get $10 back.
Amex Offers are a bit of a pain to use because you have to watch for the offers and then sign up for each individually, making them easy to miss. Still, they can be quite lucrative and are definitely worth checking out from time to time.
Chase Offers
Chase Offers are basically clones of Amex Offers – the same thing and the same process, but with Chase cards. Here are some I'm seeing right now on my accounts:
Hyatt: 15% back.
AirBnB: 5% back.
Olive Garden: 10% back.
Summing Up the Easy Ways to Save Money
And that's a wrap! The only thing that beats getting paid for your hard work is getting paid for doing little or no work. With these low-effort ways to save money, that's exactly what you'll get: money for very small investments of time and effort.
So try them out, and make yourself richer today!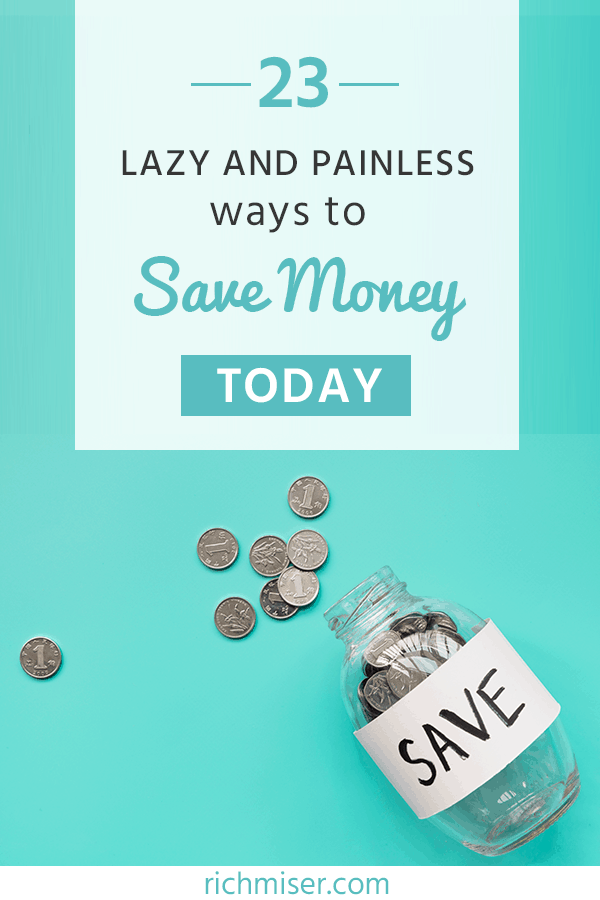 What are your favorite low-effort ways to save money?
---
H/T: Joe Hendrix for his Bumped Review
*This post contains referral links. If you sign up for some of the products and services mentioned using the links, I get a small commission.