"A journey of a thousand miles begins with a single step" – Laozi.
Why has everybody heard this quote? Well, probably because it's true. Big accomplishments start with small steps, which we take one after the other; in time, we build up momentum and combine those steps into something truly great.
Oftentimes, all we need is one of these small victories to motivate us and create that first little spark of energy, passion, and creativity. And quite frequently we can find it in the most unexpected of places, by making just one easy improvement in our day. So to help get you started, I've made this list of small victories that we can achieve today, and get on that road to the next big triumph.
14 Small Victories that Will Motivate and Inspire You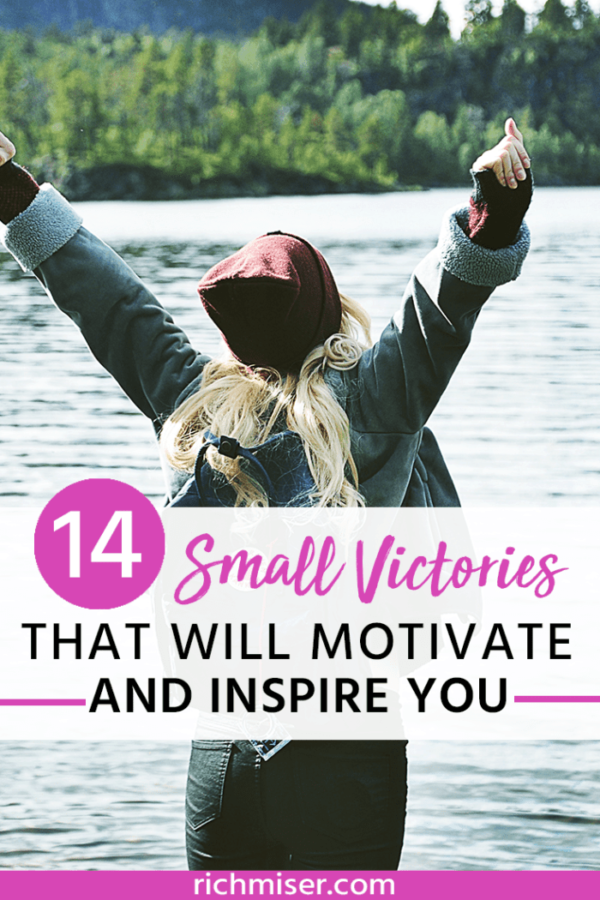 Complete a Workout
One of the best feelings! Completing a workout will give you the pleasure and satisfaction of knowing you did something wonderful for yourself, and will probably lift your mood right away with a rush of feel-good chemicals that can induce euphoria.
It's one of those things that is hard to start, but amazing once you're done. So drag yourself to the gym, or just go for a run or swim. You won't regret it!
Make Your Bed
I'll let Admiral William McRaven explain this one:

Ace a Test
It can be a test at school, or one of life's many tests. But if you have some sort of trial coming up, where it be big or small, prepare yourself thoroughly, and ace it.
By doing so, you will prove to yourself that you are excellent, and up to life's challenges. You will also impress someone else, and rise in stature in their eyes, helping your academic or work career.
So don't let anyone else tell you that you're not good enough. Prepare yourself, ace that test, and prove them wrong.
Get a Haircut
This is one of my favorite small victories because it always leaves me feeling refreshed and just a little bit more prepared to face the world. When I feel like a hairy, messy man, I feel like I'm not putting my best foot forward to the world; I feel as though I'm leaving the house with a stain on my shirt.
But after I get a haircut and leave that barbershop neat and trim, my entire outlook changes. Knowing and feeling that I look good, I've got that extra spring in my step.
Buy Yourself an Awesome Outfit
If you can responsibly afford it, go ahead and treat yourself to a nice outfit. Like a fresh haircut, it will make you feel better, more confident, and more prepared to face the world.
When I have a big day ahead, I'm always at my most anxious when I'm at home in the morning and still haven't gotten dressed. Like, literally, when I'm in the shower or have just come out and am still naked.
It all changes when I put on a crisp, clean shirt and a nice suit. To me, it feels like I've got my armor on, and the world is much less intimidating.
So try it out! It's a worthwhile investment.
Invest
Speaking of investments, that's another small victory: invest. I mean it literally – take some extra money that you have, and for which you did not yet have a plan. Invest that money in the stock market, or bonds, or just deposit it into your robo-adviser account.
Once you hit that "deposit" or "buy" button, take pride in knowing that you've made your future a bit brighter. A dollar you spend is a dollar you'll never get back; a dollar you invest is one you'll always have, and which will probably grow into more dollars over time.
Learn Something You've Always Wanted to Know
I'll credit my wife Lily here. She kinda made me learn how to paint a room and how to pressure wash. Looking back, I'm glad I have these skills, and that it's made me a bit more handy and homeowner-ish, which has long been on my to-do list.
Any new skill or even remotely useful fact that you learn makes you better at navigating life. After all, as they say, knowledge is power.
Do Something You've Been Procrastinating On
You know that mess in a corner that you never get around to taking care of? It just sits there, staring at you, nagging you, and making your house look just a little messier. But it stays that way because you always have something better to do.
Not today; today's the day you'll finally do something you've been putting off. And when you complete that task, you'll feel happiness, satisfaction, and accomplishment.
Put in a Vacation Request
Stop being one of those people that don't use their vacation days. You've earned them! So put in a vacation request.
It'll be a small victory either way; if it's denied, you'll have a better idea of what kind of organization you're working for. If it's approved, you'll have something awesome to look forward to!

Go Out With Friends
I think we often underestimate how refreshing a night out with friends can be. Laugh, have a great time, swap stories, catch up on each other's lives – by the end, you'll feel appreciated, connected, and happy.
Change Your Sheets
I'll never admit how long I went without changing my sheets in college. So don't even ask.
What I will tell you is what you probably already know – that sleeping in fresh sheets makes you feel warm and fuzzy. So go ahead, change those sheets and end your day with something nice!
Host a Party
Hosting a party is one of those things that can make you stressed as you prepare, but elated once the party gets underway. I also call it a small victory because you show yourself that you can organize an event, provide a fun atmosphere for yourself and your friends, and make a cool memory that you'll always carry with you.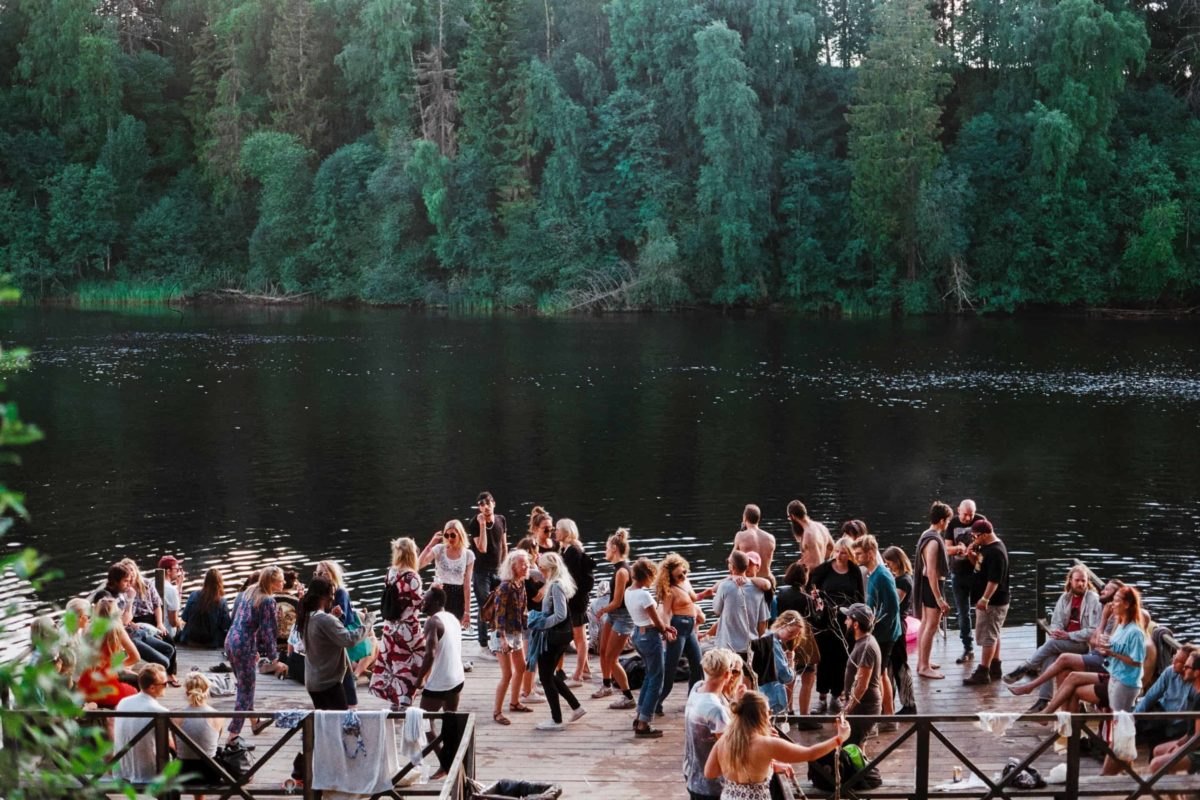 Pay It Forward
I believe in karma, in that I believe that if you put good into this world, good will be returned to you over time. I'm not talking about anything mystical; when you build goodwill with others, they will treat you better.
So go ahead – be generous, be extra nice, cut someone some well-deserved slack. It will eventually come back to you.
Take A Hot Shower at the End of the Day
A great way to "break" a bad day, right? Kind of feels like you're getting the "toxins" out, shaking off the bad juju, and starting afresh, eh?
Yeah, turn up the heat and step into that shower. It'll make you feel better!
Summing It Up
The small victories add up, just as a long journey is comprised of many little steps. Take one today, and get started on the road to better, happier living.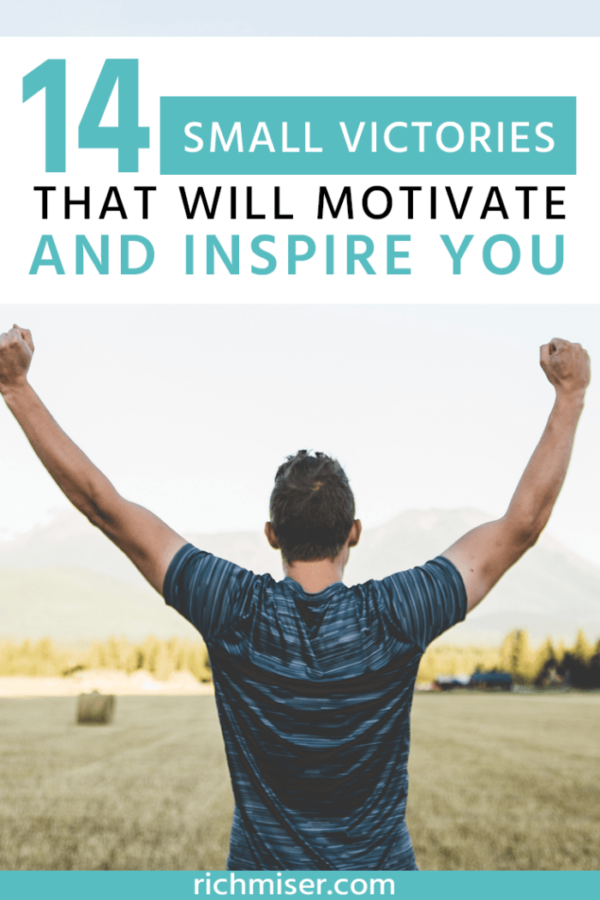 What are your favorite small victories?